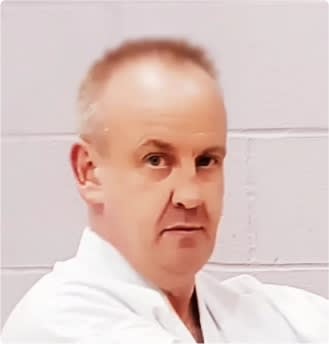 Stevie Mason Shihan
Chief Instructor KWF Scotland, Member of KWF Supreme Saiko Shihankai. 7th Dan KWF. A Class International Referee, Instructor & Examiner. Sports Scotland Active Schools Coach. Karate Scotland Licensed Coach No 448
Stevie started Karate at the age of 10 years old, training in the Harada Sensei's Shotokai Renmei system for 3 years before switching to JKA Shotokan passing Shodan under the legendary Kenosuke Enoeda Sensei in 1986.
Kihonkai Karate Club was established by cousins Jim Griffin and Stevie Mason in June 1987, shortly afterwards Stevie became Chief instructor changing the name to Kihonkai Karate Academy in 2002
Training with many top ranked Japanese instructors at Seminars home and abroad including Kanazawa Sensei, Enoeda Sensei, Shirai Sensei, Tanaka Sensei, Osaka Sensei, Naito Sensei, Kawawada Sensei, Ohta Sensei, Naka Sensei, Kawasaki Sensei and Otsuka Sensei Instructor KWF HQ.
Training and grading regularly with Kawasoe Sensei and Kato Sensei. Without doubt the Instructors who greatly influenced Stevie's Karate have been Mikio Yahara Sensei Grand Master of Karatenomichi World Federation (KWF)
KWF Deputy Grand Master Malcolm Dorfman, Former KWF Vice Chief Instructor Akihito Isaka Sensei and other KWF instructors and members of KWF Shihankai (Master Panel) which Stevie is now a member. He continues to visit Japan regularly training at the KWF HQ.
Stevie also holds a Shodan in Aikido.